Community Outreach
Interfaith Neighbors' [IFN] Community Outreach plays an integral part in offering valuable programs to assist area residents in meeting life's basic necessities. To build a strong relationship, it is important for our communities to know who Interfaith Neighbors is and what we're all about.
IFN works in communities to build relationships and partnerships.  Our Community Outreach Specialist acts as a liaison between the programs offered by IFN, local community programs and services, and community members.
IFN has learned from its grantors, its philanthropic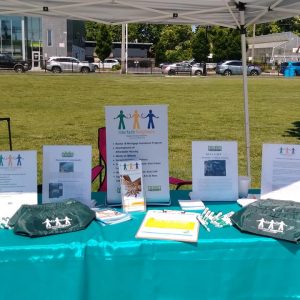 peers, and others in the field of community revitalization.   Receiving the valuable input of Westside residents in all planning processes is ongoing through neighborhood surveys, interviews, and presence at community gatherings and meetings.
Commencing in April 2016, youth, adults and community service organizations came together to successfully identify community strengths, challenges, and to discuss strategies for the submittal of the Wells Fargo Regional Foundation Planning Grant. This collaboration propelled IFN action and the eventual award of a Wells Fargo Regional Foundation Implementation Grant.
Community Collaboration: Westside Mural Campaign, 2nd Project
Project 2 was completed in September 2021 by talented local artist Charles Trott.  The project was in collaboration with Bethel African Methodist Episcopal Church, one of the first churches in Asbury Park, organized in 1869.  Their property at 119 Atkins Avenue, formerly the home of The Modernistic Beauty Shop, was deeded to the church in memory of Mrs. Willie Mae Taylor Ford, a former Westside Businesswoman and member of Bethel. The facility now known as "The Ford Center" houses Bethel's Food Pantry and Clothing Closet.
A public-facing, narrative-shaping work that includes the story of the building's activities, a more just story about the people who live in the community, and commemorates the 1928 Grammy Hall of Fame musicians Fats Waller and Andy Razaf who composed the lyrics of Honeysuckle Rose at this location.
Support Our Efforts
Your financial donations allow us to continue to provide lifechanging services for the less fortunate of our community.
Click Here To Donate
The Interfaith Neighbors Network